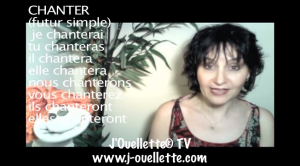 So, have you ever caught yourself singing in the shower?

Was it an embarrassing experience? Did you think to yourself "how silly am I?", chuckled and kept going?

Did you picture yourself in front of an endless audience cheering you on?

What turns a hobby into a career? Not many parents know how to harness their child's passion into an unstoppable force for success.

Read the article below to find the secret, and watch the video to warm-up your French vocal chords.

(This week: the verb CHANTER – to sing)

(Learn the pronunciation of all the tenses in Le Génie Verbale)
This is a blog post shared from Daniel Coyle's TheTalentCode.com.
Passion is the nuclear reaction at the core of every talent. It's the glowing, inexhaustible energy source. It's also pretty darn mysterious.

Where does intense passion come from? How does it start, and how is it sustained? How does someone fall wildly in love with math or music, stock trading or figure skating?

Most of us intuitively think of passion as uncontrollable — you have it or you don't, period. In this way of thinking, passion is like a lightning strike, or a winning lottery ticket. It happens to the few, and the rest of us are out of luck.

But is that true? Or are there smart ways to increase the odds?

We get some insight into that question from none other than Keith Richards, whose book Life just came out. My favorite part of the book (and that's saying something) is the part where Keith tells how he fell in love with music, and specifically with the guitar. The process went like this:

Step one: Keith's Grandpa Gus, who was a former musician and a bit of a rebel, noticed that Keith liked singing.

Step two: whenever young Keith would come over, Gus placed a guitar on on top of the the family piano. Keith noticed. Gus told him, when he was taller, he could give it a try.

Step three: one momentous and unforgettable day, Gus took the guitar down from the piano, and handed it to Keith. From that moment, Richards was hooked (his first addiction). He took the guitar everywhere he went.

As Richards writes:

"The guitar was totally out of reach. It was something you looked at, thought about, but never got your hands on. I'll never forget the guitar on top of his upright piano every time I'd go and visit, starting maybe from the age of five. I thought that was where the thing lived. I thought it was always there. And I just kept looking at it, and he didn't say anything, and a few years later I was still looking at it. "Hey, when you get tall enough, you can have a go at it," he said. I didn't find out until after he was dead that he only brought that out and put it up there when he knew I was coming to visit. So I was being teased in a way."

Reading it, I couldn't help but think that most parents and teachers — me included — do precisely the opposite. We don't put things out of reach — in fact we put them within reach. We go fast, not slow. We try to identify passion, not to grow it. We don't take the time to make the nuclear reaction happen on its own.

For me, the lessons are these:

Don't treat passion like lightning. Treat it like a virus, one that's transmitted on contact with people who already have it. Grandpa Gus loved music. He noticed Keith liked singing.

Create a space for private contact with a vast, magical world. The guitar was totally out of reach. It was something you looked at, thought about, but never got your hands on.

Give time for the ideas to grow. And I just kept looking at it, and he didn't say anything, and a few years later I was still looking at it.

Know that it's never about today, but rather about creating a vision of the future self. "When you get tall enough you can have a go at it."

For parents and teachers, Gus provides a useful model. Because Gus didn't hover. He didn't push. He didn't even try to teach, beyond some rudimentary chords. But he did something far more intelligent and powerful. He understood what makes kids care. He carefully put the elements in place, sent a few pointed signals at the right time, and let the forces of nature take their course.

Smart man, that Gus.

And I can't help but wonder: are there other Gus stories out there that might be instructive? How do we take the Gus Method and apply it to schools, or sports, or math?
Now it is your turn!
Tell us in the comments below how would you use the force of fascination from Keith Richards' method to learning French?
Merci beaucoup et à la prochaine,
Llyane
P.S.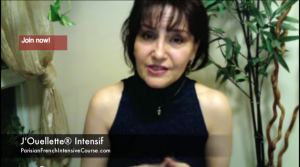 Want to learn French to enjoy Paris?
Create a solid foundation for conversation,
master pronunciation, and travel the World,
using the comprehensive J'Ouellette® Intensif

_______________
Llyane Stanfield is a Parisian French language coach, and founder of the J'Ouellette® French Method – an organic method using techniques that are employed by the world's finest linguists. She travels between Toronto, New York and Paris, while teaching French via Skype in more than 15 countries. She is French language coach for busy traveling professionals, and has produced an unprecedented Intensive Program and French Pronunciation Master Class, as well as other visual and teaching materials. She now spends a large portion of her time in Paris, where she also organizes an annual Immersion Retreat. Her unique methods produce a quantum leap in confidence and pronunciation, and a short session with her is the perfect start to brush up your French (whatever your level!) at the start of your Paris trip.

…and now Please Share this post with your friends. They'll love you for it! :)
Sign-up here for FREE French resources, advice, and FUN!