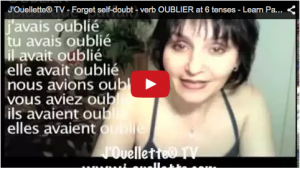 So, when was the last time you screamed from the top of your lungs « Oh, là-là ! » ?

I'm not asking when was the last time you felt like doing it, no! But when did you actually do it, without worrying that someone around will frown when seeing that you are 'too' happy? It was so long ago, you have forgotten?

Is there a place in the world where being happy, and showing it to the world, is not inappropriate?

Read the article below to find out how close you are to that place, and watch the video for some French you won't forget.

(This week: the verb OUBLIER – to forget)
How can a place be the most romantic in the world?

How can a city be an embodiment of such a general concept?

Or maybe more importantly, what is wrong with every other place on earth that allows for such an idea to exist?

I'm talking, of course, of Paris. The city of love. I'm lying, I'm not talking about Paris. Not directly.

I've come across an interesting tidbit lately. It said that couples who vacation in Paris hold hands and are generally more romantic with each other than when they're home.

We seem to forget about romance when we come back home.

Call it circumstantial at best if you wish, but ask anyone who has vacationed in Paris and they'll tell you that there's much more things like hand-holding there than much anywhere else.

It's what Paris is for, the romantic getaway. Gone seem to be the days where home is where the heart is. Now we find our hearts only when we're on vacation.

The reasons for this may be many, but I wouldn't jump on the "busy life at home" bandwagon. Cynicism is the greatest culprit here. The "I need to protect myself from pain" and the "I've been hurt too many times to believe in love" crowd is popular back home. We don't aim for the stars because the moon broke our hearts, so we remain in the stratosphere of "safe" relationships and go on vacations to show that we care, but the farce is nowhere as strong back home when there's no Eiffel Tower to quicken our hearts a little.

Some of us are brave. I'd love to hope that we are in the majority, and perhaps we are, those who have learned to aim for perfection because screw what society says, we believe in it. Our own personal perfection in another who compliments our existence enough to make Paris nice, but unnecessary. We wake up to our own Eiffel Tower every morning back home.

And that is worth fighting, waiting for and believing in.

by Daniel @ zenpolitics

photo credit: A.G. Photographe
This is why I created the Club « Oh, là-là ! », so that you have a place where you can be happy where you are, and share it with others, or you can set the foundation to plan a trip to Paris and say your « Oh, là-là ! » from your favorite bridge over Seine.
If you want to have more « Oh, là-là ! » moments, join the Club – we are just a few days away from opening registrations – and have your « Oh, là-là ! » life whether at home or in Paris!
What better time to do this than Christmas?
Now it is your turn!
Tell us in the comments below, what are the places that give you « Oh, là-là ! » moments?
Make sure you watch the Learn Parisian French – verb OUBLIER (to forget) on Youtube! While you're there, and if you like it, please click the 'Like' button!
Don't ever give up on your dream to become bilingual – the world needs your enthusiasm when you go to Paris and fully enjoy it!
LIKE this post? Then SHARE it with your friends!
p.s.
To find out more about Club « Oh, là-là ! », click here!