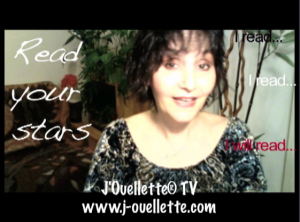 Can you read your own stars, or do you have to go to fortune tellers to see what you can master?

What if, by mastering the 5 steps we talked about last week, you would be able to do things that only fortune tellers dare to mention?

Like learning French and travelling the World.

Now that you know what it takes, see what Leo Babauta's third (and last) part of the article tells us about the new adventures that open for you.

Watch the video for some French reading and… well… read on for the conclusion of Leo's wonderful and simple ideas.

(This week: the verb LIRE – to read)

(Learn the pronunciation of all the tenses in Le Génie Verbale)
This is the third part of a post I share from one of my masters and one of the people I admire most, Leo Babauta. Read the first part, and the second part, if you missed them.
What You Can Now Master

If you master discomfort, what can you now master as a result? Just about anything:

1. Procrastination. We procrastinate to avoid something that's not comfortable, but if you can learn to stay with that task, even if it's not comfortable. The discomfort isn't bad. Those of you going through the Procrastination module in my Sea Change Program are learning about dealing with the discomfort of staying with your important task.

2. Exercise. We avoid exercise because it's not comfortable, but if we expand the comfort zone a little at a time, we can make exercise something we're comfortable with, after a little repetition.

3. Writing. If you want to write but always seem to put it off, that's because writing is often difficult, or less comfortable than checking email or social networks (for example). Stay with the discomfort, and you'll write more than ever.

4. Eating healthy. It's amazing how much our taste buds can change over time, if we gradually get used to healthier foods. That means going through small periods of discomfort, but it's not that bad in little doses.

5. Meditation. We avoid the disomfort of sitting and doing nothing, of focusing on the present. But it's not that hard — just a little uncomfortable.

6. Waking early. Waking early means being a little tired for a little while, but that's not a horrible thing. Read more about rising early.

7. Learning a language. Want to learn something new? That means doing something you're not used to, by definition, and so we often quit before we master this new skill, simply because (you guessed it) it makes us uncomfortable. Stay with the discomfort, and before long you'll enjoy learning this new skill.

8. Clutter. Clutter is just another form of procrastination. You don't put things away, or you let a pile of things you don't need build up, because it's not comfortable dealing with it right now (as compared to, say, browsing the Internet or watching TV). But dealing with something right now isn't that hard once you get past the discomfort.

9. Reading novels. We tend to avoid simply sitting with a book, because we are pulled towards something more comfortable (again, Internet browsing as an example). If we can just sit with the book and a little discomfort, we can read more.

10. Empty email inbox. Another form of procrastination — you get some emails, maybe look at them, but put off dealing with them right now because it's easier not to.

11. Debt. This is a series of things we have to deal with that are uncomfortable — listing out our debts and bills, making a simple budget, doing things that are free instead of shopping, etc. But I got out of debt by finally facing all of these things, and it was wonderful.

12. New adventures. Many people stay with places they're comfortable with, which means missing out on new experiences that might be a little uncomfortable. Even when they travel, many people stick with the tourist sights and food that they're used to, rather than finding strange but more authentic experiences in a new land. We avoid meeting new people, speaking on stage, letting go of what we know, being open to new things … to avoid discomfort.

And that's just the start. Within each of these areas there's many things you can work on over the coming years now that you're not afraid of discomfort, and there are many other areas of exploration now open to you.

Discomfort can be the joyful key that opens up everything for you.

'Discomfort is very much part of my master plan.' ~ Jonathan Lethem
Now it is your turn!
Tell us in the comments below what is the one area that you would like to master and what will be your first step.
Merci beaucoup et à la prochaine,
Llyane
P.S.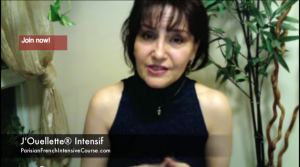 Want to learn French to enjoy Paris?
Create a solid foundation for conversation,
master pronunciation, and travel the World,
using the comprehensive J'Ouellette® Intensif

_______________
Llyane Stanfield is a Parisian French language coach, and founder of the J'Ouellette® French Method – an organic method using techniques that are employed by the world's finest linguists. She travels between Toronto, New York and Paris, while teaching French via Skype in more than 15 countries. She is French language coach for busy traveling professionals, and has produced an unprecedented Intensive Program and French Pronunciation Master Class, as well as other visual and teaching materials. She now spends a large portion of her time in Paris, where she also organizes an annual Immersion Retreat. Her unique methods produce a quantum leap in confidence and pronunciation, and a short session with her is the perfect start to brush up your French (whatever your level!) at the start of your Paris trip.

LIKE this article and free resource? Then SHARE it with your friends! They'll love you for it :)