Stuck at the same level? Ran out of time? Had enough of changing methods and courses?
Welcome to J'Ouellette® Method, that gives you understanding of the language and a perfect Parisian pronunciation!
Give me 1 month and I'll give you the confidence of a flawless pronunciation.
Give me 3 months and you'll never hate grammar again.
Give me 5 – CONGRATULATIONS! You are Bilingual!
J'Ouellette® Intensif
Intensive Program (Private Skype 1-on-1 classes + Video-lessons)
- Bilingual in 5 Months (get there 5 times faster)*
My unique formula of 1-on-1 Private classes reinforced by online video-lessons without needing discs, downloads, or installations. Suited for you, the busy traveling professional, who wants a guarantee to finally fully express your ideas and opinions in French. Enables you to master the conversational skills required to plan adventures, care for your health, and move abroad.
As low as $14.99/lesson
LEVEL: Guarantees a solid High Intermediate to Advanced level
You'll never need another French coach: get fluent in Parisian French and stay fluent with FREE lifetime access to your lessons and your coach.

Private Skype 1-on-1 classes
Reading, writing, grammar, pronunciation, ear training, conversation
A steady paced environment, more suited if you are a student or professional who needs to improve and maintain the French skills
$30.00/hour
LEVEL: anywhere from absolute beginner, to high advanced

15 Skype Classes ($450.00)


1. J'Ouellette® Audio Book

Now or Never!

Downloadable digital training program where I designed each of the 19 modules to guide you, step-by-step, how to build your unique learning method, speak with flawless grammar, impeccable pronunciation and turn your current job opportunities as well as salary potential around.

Contains 76 audio-lessons (in both MP3 & PDF format), covering the entire J'Ouellette Intensif program, which means portability and the comfort of practicing in the car, at the Gym, during your jogging routine.

A total of 19 hours of audio lessons, from beginner to high intermediate/advanced level (C1).

BONUS: 2 Skype classes that you can use whenever you need my help.

$399.00

2. J'Ouellette® Prononciation Master Class
The Secrets of FLAWLESS & CHIC
PARISIAN PRONUNCIATION
You will never make a pronunciation or spelling mistake again.

Over 70 rules of pronunciation in one place, illustrated with over 200 words in video, audio and text format.

12 Downloadable files: 4 MP3s, 4 MP4s, and 4 PDFs.
2 Skype classes for questions, practice and reinforcement.


$299.00

"Even with two semesters of university level French linguistics courses I still struggled with pronunciation of new words and continued to inflict my American accent on French pronunciation. It was evident that knowing the "rules" hadn't brought my pronunciation to the level it needed to be because I was still getting puzzled looks from native French speakers as my mispronunciations and/or accent often changed the meanings of the words I was using. After Llyane's Master Class in Pronunciation I can hear the difference it has made in my pronunciation! Better still, I have become more aware of my pronunciation errors as I hear myself speak and can self-correct. The pronunciation class filled in the missing pieces for me. For the first time, I now see and hear the patterns, organization and structure behind the pronunciation of French words."
~ Debbie Cochener
Not sure which program to choose?
Drop me a line and I'll explain in detail each program!
You may also want to ask about our Referral Program and the Testimonials Giveaway!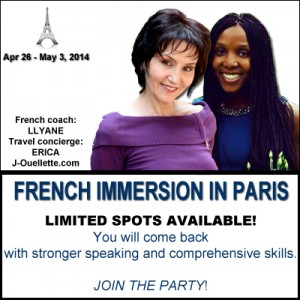 During the year, I offer an Exclusive French Immersion Retreat in Paris, a one-week trip to Paris, when you will speak French for up to 6 hours/day, personally coached by me.

REGISTRATIONS ARE NOW OPENED!
Why Parisian (standard) French?
Because you will be well understood all over the world, in the trips you want to make, the bilingual job you want to have, the business contacts you want to make. Parisian French lessons also help you read and write faster than you thought possible.
I deliver no less than bilingualism. Period.
Come work with me – you'll have fun!
Llyane
______
* PLEASE NOTE:
After this 5-month program, you can consider yourself bilingual, as you will have all the necessary elements to reach a high intermediate level of conversation (results vary depending on your initial level and the time of practice you invest). While I support you through your language learning all the way to the advanced and academic level (including an immersion retreat), don't forget that it takes years to become fluent in a language. Enjoy the ride! :)
Booking and Cancellation Policy