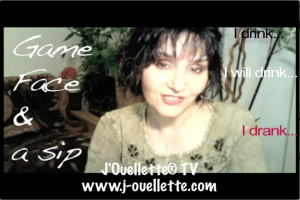 How many of you have ever had a performance, or a presentation to do?

Isn't it the most stressful thing ever?

It's nerve wracking and you need a drink after a while of such anticipation.

The key, they say, is to have your "game face" on but, according to the article below, that might be a big misconception!

Keep reading to find out why and check out the video for a nice French drink!

(This week: the verb BOIRE – to drink)

(Learn the pronunciation of all the tenses in Le Génie Verbale)
This is a post I share from Daniel Coyle's blog TheTalentCode.com.
If you saw the cellist Yo-Yo Ma a half-hour or so before one of his performances, you would see him do curious thing: he mellows out. He makes jokes; he smiles; he chats. You could easily mistake him for an audience member.

If you walked into a professional sports locker room an hour before the start of a big game, you'd be surprised by the number of athletes who are in a similarly easygoing state — playing videogames, lost in their music headphones, or, quite often, unconscious in a chair, grabbing a quick snooze.

We're often led to believe that we should approach Big Moments — i.e. pressure-packed games, recitals, meetings — with a mindset of gritted, focused intensity that we know as "the game face."

In fact, our instincts are wrong. In fact, practice is the right time for intensity and scowls; performance is the time for lightness and ease.

Here's why: practice is an act of construction. It's the place to stretch, to make mistakes and fix them. It's the time to reach and repeat, over and over, until you've built the reliable skill. It's the place to experience and embrace the effortful frustration that's part of the building process.

Performance, on the other hand, is a very different situation. You are not trying to construct the skill; you're are trying to employ it; to be alert, and to react to an unfolding set of possiblities. In these kinds of situations, unless you happen to be Ray Lewis, the most productive mindset tends to be a light, broad, attentive focus; one that stays in the moment, and controls the emotional ups and downs.

A beautiful example of this mindset is provided by Joe Montana, the 49ers quarterback who led 31 fourth-quarter comebacks in his career. Once, in the fourth quarter of the 1989 Super Bowl with three minutes left and his team down by three points, he unexpectedly lifted his head from the huddle and stared into the stands — he'd spotted a familiar face from television.

"Hey," Montana said, "Isn't that John Candy?"

His teammates were in disbelief. But it makes perfect sense, because Montana had the right game face on: relaxed, attentive, open. As the great acting coach Constantin Stanislavki put it, "The rehearsals are the work; the performance is the relaxation."

What's ironic (and a little insane, in my view) is that many parents and youth coaches do precisely the opposite. They treat every performance or game like it's the Super Bowl, and treat practice as mere routine, an afterthought.

Which makes me wonder: how might that mindset be reversed? How do you de-pressurize performances and funnel intensity toward practice? I'd love to hear any suggestions or ideas you might want to share.

PS – For more on this topic from a musician's POV, check out this great post by educator and author Gerald Klickstein.
Now it is your turn!
Tell us in the comments below how do you take off your "game face" – do you have any techniques, strategies, songs and dances?
Merci beaucoup et à la prochaine,
Llyane
P.S.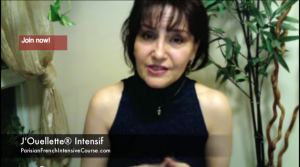 Want to learn French to enjoy Paris?
Create a solid foundation for conversation,
master pronunciation, and travel the World,
using the comprehensive J'Ouellette® Intensif

_______________
Llyane Stanfield is a Parisian French language coach, and founder of the J'Ouellette® French Method – an organic method using techniques that are employed by the world's finest linguists. She travels between Toronto, New York and Paris, while teaching French via Skype in more than 15 countries. She is French language coach for busy traveling professionals, and has produced an unprecedented Intensive Program and French Pronunciation Master Class, as well as other visual and teaching materials. She now spends a large portion of her time in Paris, where she also organizes an annual Immersion Retreat. Her unique methods produce a quantum leap in confidence and pronunciation, and a short session with her is the perfect start to brush up your French (whatever your level!) at the start of your Paris trip.

LIKE this article and free resource? Then SHARE it with your friends! They'll love you for it :)
Sign-up here for FREE French resources, advice, and FUN!