Gain the confidence. Discover your potential.


√ Takes too long?
√ Spent too much?
√ Embarrassed, frustrated and sick of feeling ignorant?

CLICK HERE to see how I can help you!

With J'Ouellette® Method you will discover:
1. How to Overcome the Fear of making Mistakes in French
2. How to have a perfect Pronunciation in 30 days or less
3. How to become competent Parisian French speaker in 5 months

You will also learn:
1. My against the grain approach to speaking faster in French
2. The unexpected way of becoming best friends with grammar (even if you don't know what grammar is)
3. The secret technique of boosting your conversational skills
If you are looking for the peace of mind that someone will walk you step by step, using an extremely flexible and 100% customized approach to help you understand the language and make it your own, then J'Ouellette Method is right for you.

Do you secretly fear that you would not have the opportunity to learn French? That you would find yourself in a French-speaking country someday without the ability to speak and understand, that you would give up and stop trying to learn French. Because there may be other languages you want to learn, are you afraid you would give up on all of them?
Do you sometimes think that this would just be one of many examples where you have wanted to do something and never committed? That there are people you admire who speak at least one language other than English while you do not? That you could live your life without ever learning another language?
If language learning is something you have never endeavoured before, are you thinking that it is not your strength compared to your abilities in mathematics, engineering, athletics, etc. Do you fear that you will not be taken seriously by others who study French (or any other language)? You don't know if you'll find others who are accepting and excited about your desire to learn, or will you be viewed as an outsider who knows relatively little and is therefore not suited to be in the same circle?
Don't learn Parisian French. Practice it!
With me, You will use the J'OUELLETTE® METHOD based on Ear Gymnastics, Sense Memory, Committed Impulse and Deep Practice – so you will become a Natural at this romance language.
Committed Impulse, Sense Memory, and Deep Practice have different names, but they are pretty much the same: FAST, INTUITIVE and ORGANIC learning of behavior (languages, dialects, movement and skills) that you will NOT forget.
It means learning something with such a method that, after you throw all the theory away, you are left with a skill that comes to you as organic and natural, as if it was yours from the beginning.
You will learn how to "deep practice", the same way the highly skilled professionals do, which is simply a guided slowing down. Find out how to use this lil' secret and you can learn to speak French at any age and despite the busiest schedule.
I am not only helping you to learn a foreign language – second most learned language in the world – I help you communicate effectively your feelings, and use this tool to express yourself fully, and become who you always wanted to be, meet the people that inspire you, travel in the places that you dream about.
You will understand the language, rather than memorize expressions, words and verbs that you can find in any other book out there. You will also understand why you had problems learning before, and use those "bad habits" to your advantage.
J'Ouellette® Method is an unique approach to language learning – a method that has scientific research behind it – using physical and mental exercises, which will transform your learning technique.
Your only job will be to learn to speak Parisian French – my job is to learn You – the way you think, your learning habits – and help you use what works and drop what keeps you behind. See how well this works for our students.
I teach you how NOT to need me. But if you do, you have lifetime access to the learning materials and to me, for questions and guidance.
You will no longer fear that not trying something new and possibly wonderful will become how you make decisions on similar opportunities in the future, missing out on so much you could enjoy.
Not sure what to do about getting started?
Drop me a line and I'll explain in detail what we offer!
Daily adventures during my Immersion in Paris

First, please keep in mind that each Immersion is custom designed based on the student's preferences, so no two retreats will be the same.

This week, I am in my second Immersion Retreat in Paris and updating you on the adventures and discoveries that we have in the process.

Check out the journal for some more insight into the amazing experience, and watch the video for some French worth immersing yourself into!

(This week: the Parisian French Immersion Retreat)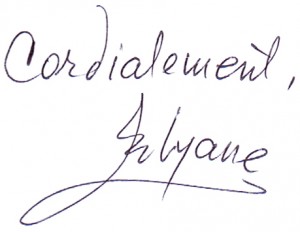 Founder of J'Ouellette® Method

If you like this page, please Share it with your friends! Click to Tweet This: